Fourth grade classes have been looking at the paintings of Andy Warhol. This artist often used repetition of the same image (like a can of soup or someone's face) to create a pattern. If you look at his work, you can see that he often used unexpected colors and didn't always "stay within the lines."
In some ways, each image is exactly the same, but when we consider the color, each one is completely different.
To learn more about this fabulous artist, we've read these two books together. Did you know the author and illustrator is also Andy Warhol's nephew -- and that he'll be visiting our school in the spring?
The book above is his brand new book. Andy Warhol had 25 cats -- all named Sam!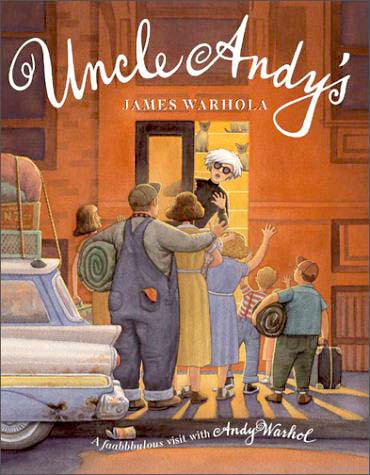 One of the students was excited to find that his family owned the special edition commemorative stamp plaque below!
To duplicate our image, we made a sketch, scribbled on the back of it, then traced over the lines in the drawing over and over again. If you've never done that, try it! It's a lot of fun.